Bound to College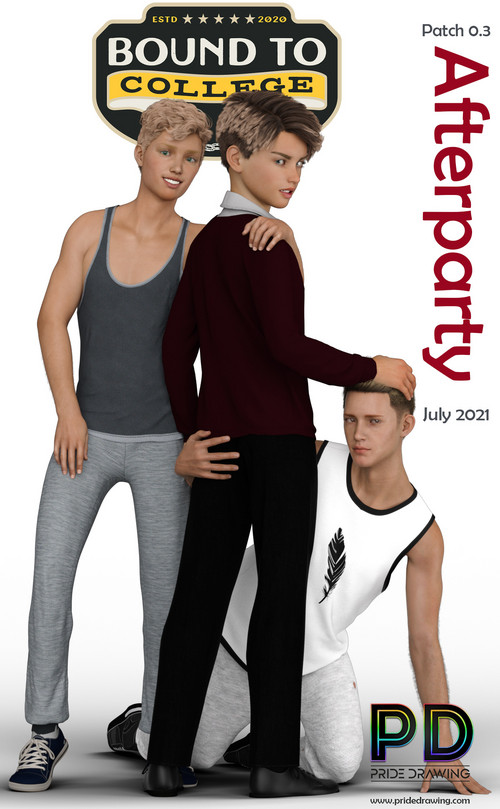 Fun after the party
The long anticipated chapter is finally here! But apart from evolving the game itself, there have been many other changes done, milestones reached and advancements made.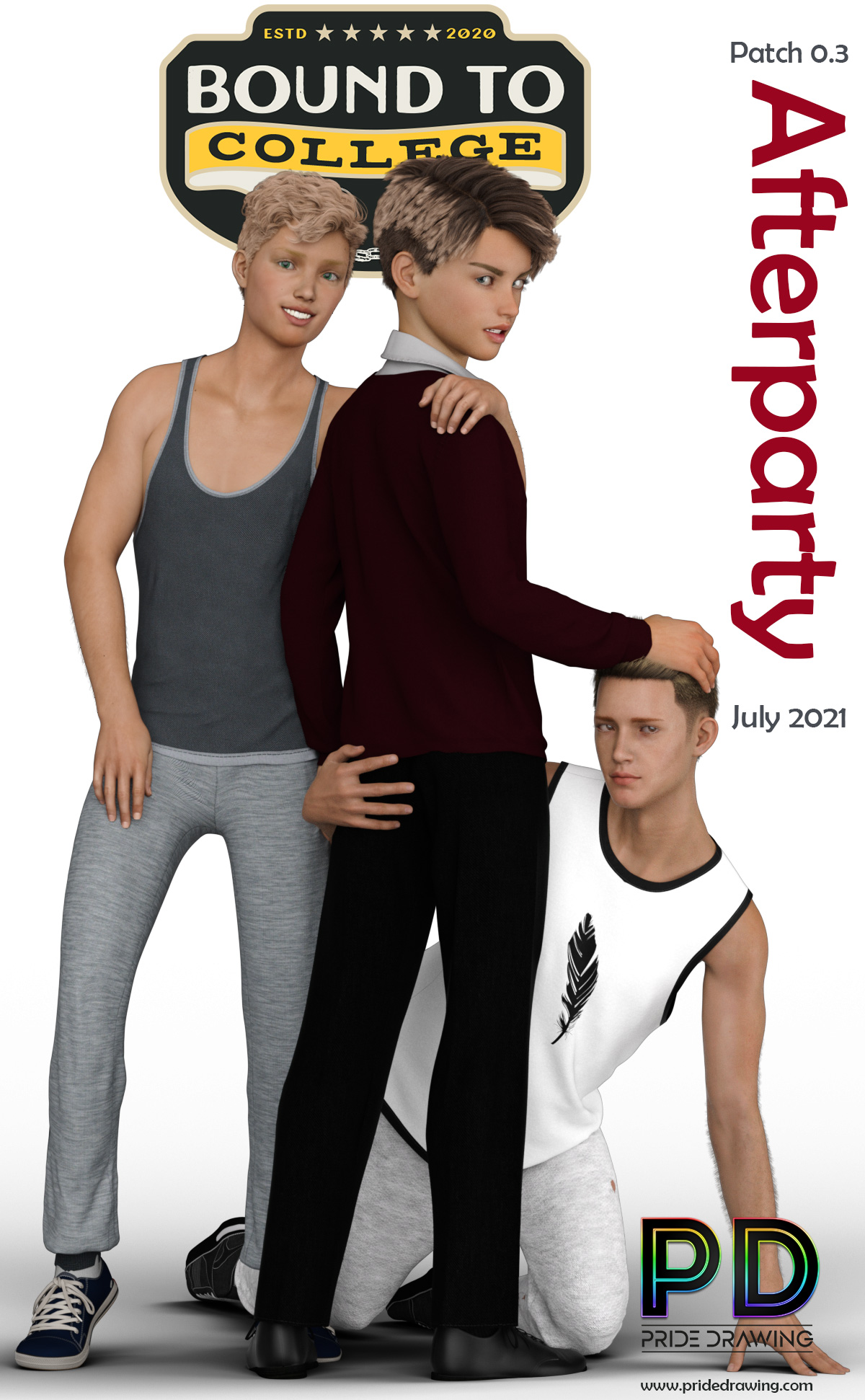 ---
About the update
To say in advance: If you want more details about the most important parts of this update, make sure to watch the video which I made about the subject.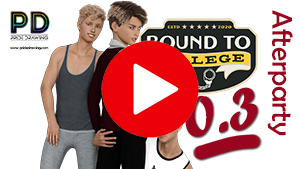 In-game changes
Let yourself get lost in the myriad of choices and consequences this chapter has to offer.
You will find yourself back in the dorm alongside Julian and Ron, who is acting quite strangely at the moment... Will you investigate further or will you leave them alone and go for a walk? What about that flashing red light in the corner? Either way, you are going to experience a fierce storm of emotions; both positive and negative...
This chapter brought an innumerable number of new dialogue lines and an unprecedented amount of images and animations. It is definitely the biggest update which I have released so far.
All of the in-game changes are listed below.
Major changes
New user interface
I updated the user interface to fit the game's atmosphere better. The inapt plain blue dialogue boxes are getting replaced with an opened notebook. For more details, please refer to this article which I have posted before.

A way to get warned about kinks
You can now choose to get warned about kinks resulting from your decisions during the initial scene (at the administrator's office).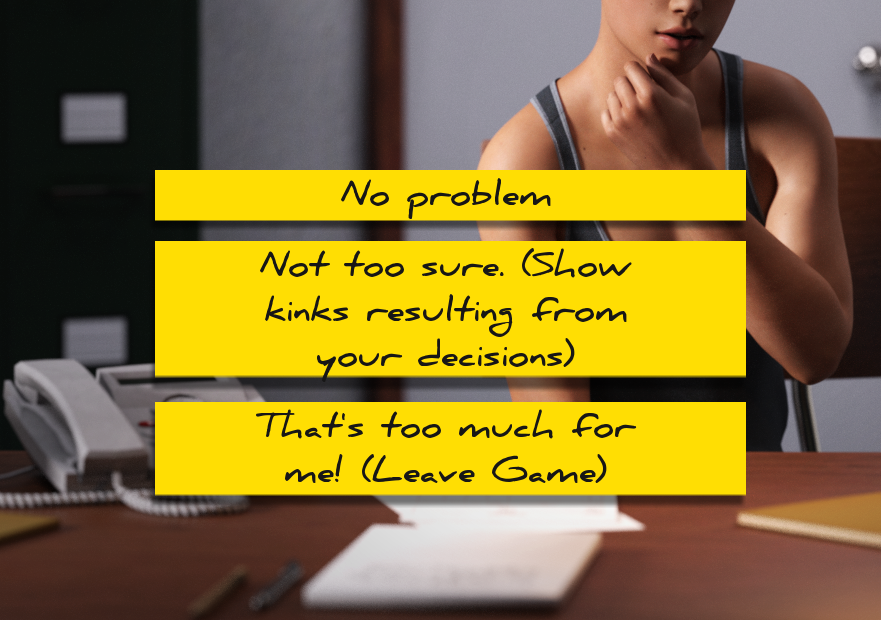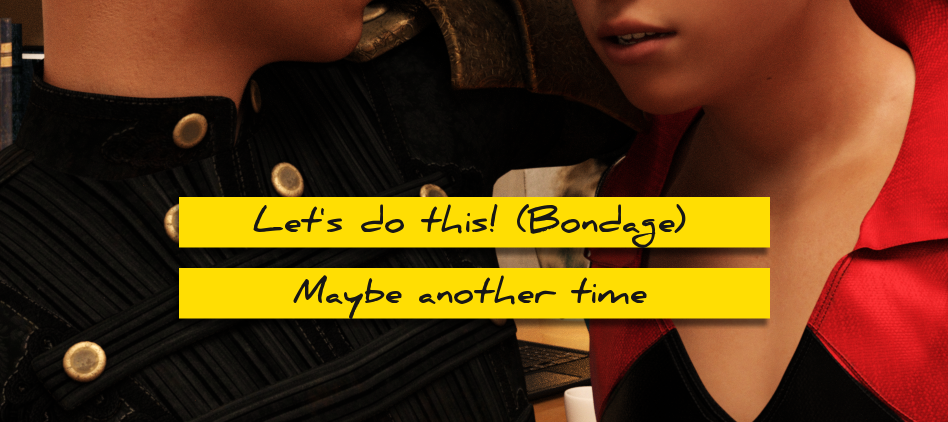 Russian translation
Thanks to nukalka and luckyDev, the game got translated into the Russian language. Thank your very much for your hard work!
But other than Russian, the game is also being translated into multiple different languages. You can switch to them in the preferences menu.
Centralized the displaying of relationship and mark changes
Now you will have to translate only the individual keywords in the "variables.rpy" file and forget about this whole topic. No more copying and pasting the sentence "Your relationship has...and so on".
Warning! The rest of this sub-section (Major changes) contains spoilers to the previous chapters.
The ability to "friendzone" Ned
There has been no way to do so until this point. Ned would either fall in love with you or start to horridly despise you, both of which could affect the story in unwanted ways.
Take blame for Ron
You can now decide whether you want to take the blame for Ron trying to "experiment" with you in the café or say the usual "Hey, it wasn't me!"
Overall, it would be best to play the game from the beginning (again); both for the sake of immersion and properly balancing the after-party logic.
Minor changes:
Added a new introduction animation
Fixed an abundance of major and minor bugs
Fixed seeing the headmaster's wife in the hallway when you haven't met her.
Fixed very many spelling errors and other dialogue-related bugs
A lot more, I just can't remember right now
---
Other changes
New website
Feel free to check out my new web-site here. There you can find all the important links and latest news.
GitHub repository (and workshop channel)
The project got moved into a GitHub repository. Of course, it was mainly for the sake of keeping the files and the development process orgranized, but it brings one considerable benefit: allowing people to see the development progress and being able to participate. If you are a Patreon or support this project in any other way (translating the game, boosting the Discord server, etc.) and would like to get access to the repository, make sure to read the news on my Discord server since an application form will get released soon.
Spelling mistakes reporting form
You will no longer need to submit the spelling mistakes on the Discord - there is a new form being released. Frankly, it's not going to make the submission process any easier but it will certainly save me a lot of time when making the needed changes.
Statistics
Instead of saying plain numbers in plain text, I made an image to capture the scale and magnitude of this update in comparison to the previous stage of the game. If you want to hear more about this topic of statiscics, make sure to watch the mentioned video.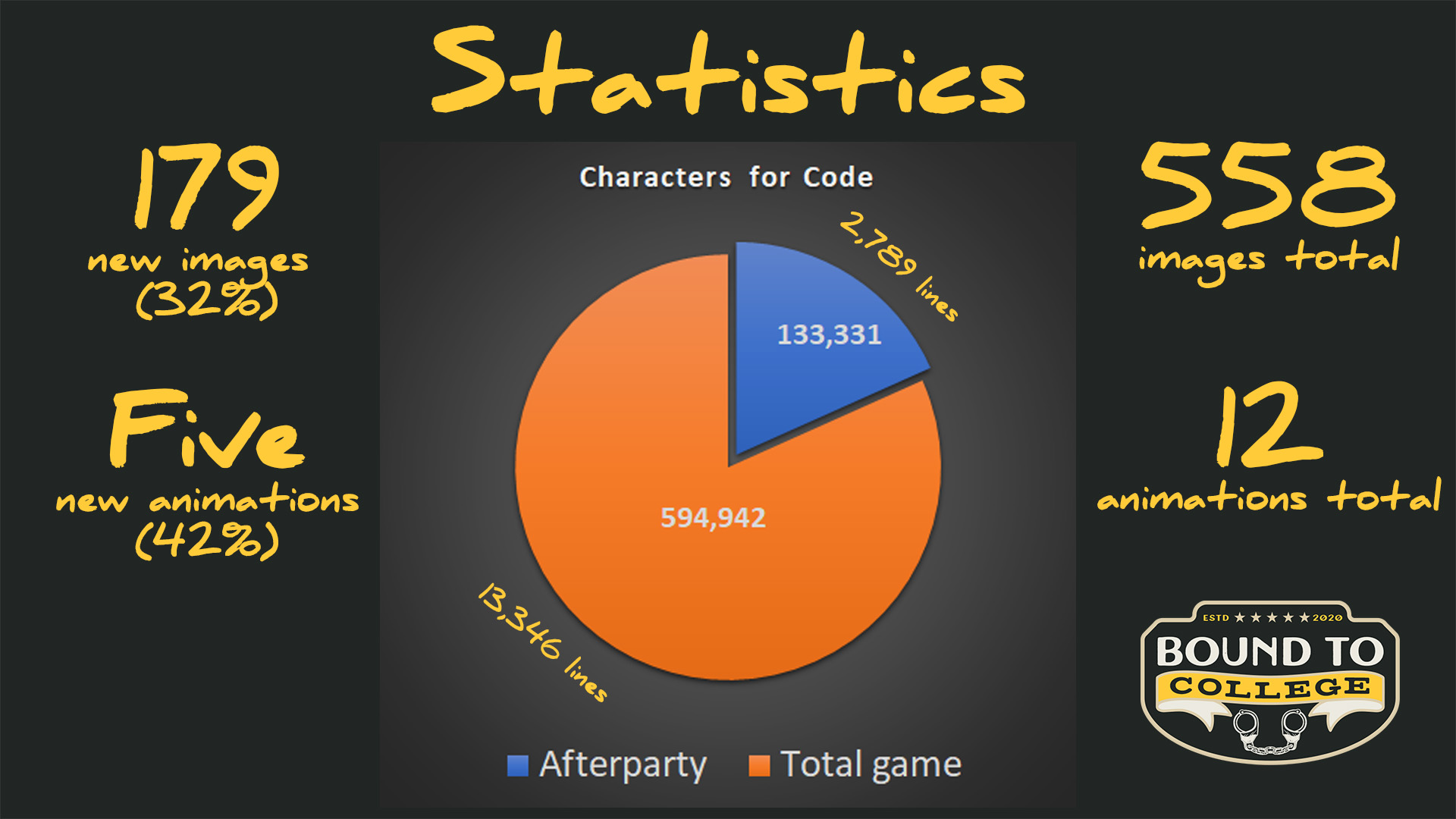 ---
---
I hope that you will have fun while playing this chapter.
Files
bound-to-college-win.zip
1 GB
BoundToCollege-0.3012-linux.tar.bz2
1 GB
pridedrawing.bound2college-3012-universal-release.apk
1 GB
bound-to-college-mac.zip
1 GB
Comments
Log in with itch.io to leave a comment.
What do you mean? The game is still in development.
hey i can't download the update like i have no idea how to download it can someone help
Can you be more specific? Do you get an error message?
im so sorry if I sound so dumb but I have no idea where to click to like download the update on this website.. and I've started my game and I obviously don't have the update so yeah I'm sorry for my dumb ass lmao
Don't worry. Click in "No thanks, take me to the download" here:
THANK YOU so so much and i really appreciate the hard work you've been doing for ur game ! Great job keep up
id like to delete past saves as there starting to accumulate cant figure out how
Oh wow! I am sooooo pumped to play this update! You have been doing a phenomenal job with its development.